Chapter 51
2000 January 16-31
Index with links to the other chapters
---
2000 January 19
New Trans-Atlantic Cables Terminate at Halifax
Hibernia Network
An Enormous New Data Transmission System
The first transatlantic cable to be able to handle
10 gigabits per second on a single fibre
The Halifax suburb of Herring Cove is the Canadian landfall for a new high-speed, transatlantic fibre optic network. Worldwide Telecom Canada Inc., a subsidiary of Vancouver-based Worldwide Fiber Inc., announced today the 30,000-square-foot cable landing station just outside Halifax is part of an $80,000,000 investment planned for Nova Scotia, to build and equip a cable landing station near Herring Cove and complete the Nova Scotia portion of a land-link to the company's North American network. The company selected Halifax as the Canadian landing site for the Hibernia network, a pair of undersea cables that will link the company's North American fibre-optic network with one it is building in Europe. Development plans for the Halifax site include the cable landing, a small cable landing station and buried cables that will directly link to Worldwide Fiber's North American fibre optic network through Quebec City and Montreal.
The $1,200,000,000 network is a high-capacity system designed to satisfy increasing demand for telecommunications capability between North America and Europe. The announcement of the Hibernia fibre optics network was made in Halifax by Scott Lyons, vice-president of Worldwide Fiber's marine division. "It will bring the wired world directly to Nova Scotia with greater speed and greater capacity than ever before," Mr. Lyons said. "It will provide significant benefits to the greater Halifax region." He said the undersea cables will be able to carry up to 25,000,000 telephone calls simultaneously, three times as many as can be carried by all eight now-existing trans-Atlantic cables combined. "The actual construction of the building is about $15,000,000, the equipment going into the building is about $30,000,000, and the rest of the investment is the fibre infrastructure in the province of Nova Scotia," Mr. Lyons said. Ten full-time technicians will work at the Herring Cove station, which will open early in 2001. Halifax will be linked directly with Dublin and the United Kingdom, which are emerging as leaders in e-commerce, Lyons said.
The 12,200-kilometre system will link cable landing stations in Halifax, Nova Scotia; Dublin, Ireland; Liverpool, England; and Boston, Massachusetts. The Halifax station, on 16 hectares at Hospital Point, will handle two transatlantic cables and one to Boston. The Worldwide system, when completed next year, will have a capacity of almost 2,000 gigabytes per second, with most of it likely to be committed to data transmission. Direct access to the system for Halifax will be a major boost to economic development, Lyons said, especially for companies engaged in e-commerce and Internet applications requiring wider bandwidths than are available now. It may take five to ten years to take up all the bandwidth available on the Worldwide cables, Lyons said, but once the price starts to come down, he believes applications that once were too expensive — such as video-on-demand services via the Internet — will come on stream. "With this type of bandwidth, that's where we're headed," he said. Getting connected to all that capacity is up to local access providers and phone companies, Lyons said, although many are quickly upgrading their own systems.
Fibre optic systems use laser-generated light waves to transmit data, video and voice in digital formats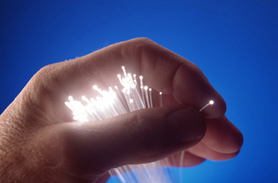 through ultra-thin strands of glass. Fibre optic systems are generally characterized by large circuit capacity, good sound quality, and resistance to external signal interference and direct interface to digital switching equipment. Using current DWDM (Dense Wave Division Multiplexing) fibre optic transmission technology, a single pair of fibre optic strands used in the network can transmit up to 320 gigabits of data per second, the equivalent of approximately 4,200,000 simultaneous voice conversations. Technology continues to advance at a rapid pace and it is expected that much more bandwidth per fibre will be available in the future.
Worldwide Fiber has been designing and building fibre optic communications networks since 1987, when it was the telecommunications division of parent Ledcor Industries Ltd. of Vancouver. Ledcor, with interests in mining, pipelines, industrial and commercial construction and telecommunications, was established in Edmonton in 1946. The Worldwide Fiber Network will connect most of the major population centers in North America and the world. Worldwide Fiber is an independent developer of fibre optic infrastructure for communications carriers, Internet service providers and corporations with high bandwidth needs. Among its clients are Bell Canada Inc., Sprint Canada Inc. and BCT.TELUS Communications Inc. The company, whose CEO Greg Maffei was formerly CFO and executive vice-president of Microsoft, is completing a 37,000-kilometre fibre optic network linking 15 major cities in Canada and the U.S. It's also developing a 9,000-kilometre land-based fibre optic network in Europe. "The Hibernia network is the transatlantic link that will tie these two networks together," Lyons said.
Ledcor has installed more than 15,000 route kilometres of fibre optic cable networks for numerous telecommunications companies, including Bell Canada, MTS Netcom Inc., AT&T Canada, Alaska Fiber Star, Call-Net, Mi-Link Communications, LLC and Champlain Telephone and World Net Communications Inc. Since its first communications project in 1986, Worldwide Fiber has become a leader in the installation of buried long-haul fibre optic telecommunications systems. It has developed a patented system of rail-mounted equipment for plowing cable along railway lines to speed cable installation and provide precise placement. In 1995, Ledcor recognized an opportunity for the installation of a national FOTS (Fibre Optic Telecommunications System) spanning Canada, into the United States and beyond. As both the developer and builder, the company was responsible for the planning, marketing, financing, and managing of the North American FOTS, now recognized as a major engineering and construction achievement. The North American FOTS spans the continent from Vancouver to Toronto along the Canadian National Railway and from Vancouver to Toronto via Minneapolis, Chicago and Detroit mainly along the Canadian Pacific Railway.
One month ago, on 22 December 1999, Worldwide Fiber announced the appointment of Gregory B. Maffei as the company's chief executive officer. Previously, Maffei was senior vice-president, finance and administration, and chief financial officer of Microsoft, a software company based in Redmond, Washington. [Halifax Chronicle-Herald, 20 January 2000]
[Halifax Daily News, 20 January 2000]
References:
Worldwide Fiber website
https://www.wwfiber.com/
Optic fibre technology
https://www.wwfiber.com/html/technology.html
Worldwide Fiber, brief history
https://www.wwfiber.com/html/history.html
Media release, 19 January 2000, Halifax selected…
https://www.wwfiber.com/html/news_19january2000.html
Media release, 22 December 1999, Greg Maffei moves…
https://www.wwfiber.com/html/news_22december1999.html
Ledcor Industries website
https://www.ledcor.com/
Ledcor Industries, brief history
https://www.ledcor.com/utilit/utilit_about_ledcor.htm
---
North Atlantic Network
Cable Landing Stations Halifax, Dublin, Liverpool and Boston
Gateways Toronto, Montreal, New York, London and Dublin
Submarine Cable Length 12,200km (7,600 miles)
Halifax to Liverpool 5,486km (3,409 miles)
Liverpool to Dublin 234km (145 miles)
Dublin to Halifax 5,593km (3,475 miles)
Halifax to Boston 748km (465 miles)
Configuration Self-healing ring provides internal restoration in the event of link outage
System Architecture 4-fibre pair, bi-directional line switched ring (BLSR)
Initial Capacity 160 Gb/s, 80 Gb/s per fibre pair (1+1) protected
Final Capacity 1.92 Tb/s, 480 Gb/s per fibre pair (1+1) protected
Ready for Commercial Service Full ring ready in first quarter of 2001
Quality of Service Greater than 99.995% availability (submarine portion)
Source: https://www.wwfiber.com/News—Facts.asp
---
Trans-Atlantic Capacity Increased
to 1.9 Terabits Per Second
On 1 November 1999, Worldwide Telecom (Bermuda) Limited, a subsidiary of Worldwide Fiber Incorporated (WFI), announced that the capacity of the Hibernia self-healing SDH ring network, will increase from 1.28 Tb/s (terabits per second) to 1.92 Tb/s on each segment using DWDM (Dense Wave Division Multiplexing) technology on each fibre pair. The WFI undersea trans-Atlantic cable connection between Boston and Europe via Halifax will utilize a 4-fibre pair, state of the art, 48-wavelength technology. Worldwide Telecom and Tyco Submarine Systems Ltd. (TSSL) have broken through technology barriers to bring this development to reality, without added costs to the systems capital budget. The project continues to set new standards of achievement in the subsea fibre optic marketplace. The undersea cable system will be installed by TSSL, and Hibernia will be the first trans-Atlantic subsea ring network utilizing 48 wavelengths at 10 Gb/s line rate and will have 480 Gb/s per fibre pair on each segment, for a total of 1.92 Tb/s fully protected capacity. Dr. Peter K. Runge, Chief Technology Officer of TSSL stated, "TSSL is pleased to provide Worldwide Telecom the most advanced technology for the Hibernia System by delivering the highest transmission capacity per fibre available at this time. TSSL's continued efforts with Worldwide Telecom to meet the specific requirements of the Hibernia project and provide the latest in technological developments have been precedent setting."
Worldwide Telecom's Hibernia System network will have landing points in Halifax, Nova Scotia; Boston, Massachusetts; Dublin, Ireland; and Liverpool, England and will interconnect with WFI's existing North American terrestrial longhaul backbone network and will connect customers end-to-end, over a seamless international high capacity system. Hibernia represents a unique opportunity to connect Worldwide Fiber's US network to future European customers.
Tyco Submarine Systems Limited, a wholly owned subsidiary of Tyco International Limited, is an independent supplier of undersea communications systems and services. TSSL owns and operates a fleet of world class cable ships for the installation and maintenance of undersea communication network systems. Leading-edge fibre optic technology is provided by the advanced TSSL Labs located in Eatontown, New Jersey. TSSL operates cable, repeater and transmission equipment manufacturing facilities located in New Hampshire, New Jersey and Virginia. TSSL has completed 85 undersea fibre optic networks, in excess of 350,000 kilometres of fibre optic cable connecting over 100 countries.
On 17 January 2000, Tyco International Limited announced that its undersea fibre optics business will design, build, operate and maintain its own global undersea fibre optic communications network. Upon its completion, the system, to be known as the TyCom Global Network, will be the largest and most advanced global undersea telecommunications fibre optic network. Tyco International's shares trade on the New York stock exchange under the ticker symbol TYC, and on the London stock exchange under TYI. In 1999, Tyco International's revenue was about $22,000,000,000 annually, or around $60,000,000 each day.
Phase One of the TyCom Global Network (TGN) will offer a minimum capacity of 2.56 terabits per second over a fully integrated system that will span more than 85,000 undersea kilometres and connect 25 major telecommunications cities around the globe, including: New York, London, Tel Aviv, St. Petersburg, Hong Kong, Tokyo, Guam, Hawaii, Seattle, Los Angeles and fifteen other major European cities. Tyco will utilize its own state-of-the-art technology to design and manufacture all the cable, optical amplifiers and terminal equipment needed for Phase One. Tyco will also design, build and equip the required network operating centers and cable stations which route the bandwidth traffic flowing over TGN. Finally, Tyco's own fleet of 13 ships will install and maintain TGN. The Transatlantic portion of the first phase will be completed and operational by the end of 2001. The remainder of the first phase, consisting of the Transpacific and European systems, will be completed and operational by the end of 2002. The timing and sequence of implementing additional phases of the network will be based on future requirements of global and regional demand.
On 13 September 1999, Tyco International Limited announced it has taken an equity position in Worldwide Fiber Inc., which will form part of the funding for construction of Worldwide Fiber's transatlantic undersea fibre optic network Hibernia. Worldwide Fiber completed equity private placements totaling $345,000,000 in Convertible Preferred Stock with Tyco and three independent investors, which combined represent a minority interest in Worldwide Fiber. The proceeds of the placements, together with an underwritten project financing commitment will fully fund the $850,000,000 Hibernia fibre optic network. In July, Worldwide Fiber had selected Tyco Submarine Systems Ltd. (TSSL) as the sole supplier for the 12,200 kilometre transatlantic Hibernia project which will connect Worldwide Fiber's North American network to Europe, as their first step toward international connectivity.
Sources:
https://www.wwfiber.com/html/news_1november1999.html
https://investors.tycoint.com/news/20000117-13208.htm
https://investors.tycoint.com/news/19990913-10736.htm
https://www.submarinesystems.com/NewsWire/tgn.htm
Also:
Tyco International Limited website
https://www.tycoint.com/
Tyco Submarine Systems Limited website
https://www.submarinesystems.com/
---
Worldwide Fiber and Telewest to Build
Major Fiber Optic Network in England
On 24 January 2000, Telewest Communications and Worldwide Fiber Inc. announced they will build a high-capacity fibre optic network in England, linking Liverpool and London via two separate routes. Telewest will build the 1,150-kilometre network connecting Worldwide Fiber's trans-Atlantic cable station in Southport (near Liverpool) with Worldwide Fiber's point of presence in the Docklands (London) via Manchester, Sheffield, Birmingham, Bristol, Nottingham and Cambridge. This multi-duct network will be an expansion of parts of Telewest's existing 3,500-kilometre fibre optic network that links all major cities in the United Kingdom and interconnects Telewest's regional broadband networks, carrying digital TV and Internet services as well as national and international telephone traffic. The value of the initial phase of the contract is £40,000,000 or US$66,000,000 or C$98,000,000.
Worldwide Fiber designs, builds and operates high-speed fibre optic networks for communications carriers, Internet service providers and corporations with high-bandwidth network needs. Worldwide Fiber is currently completing a 38,600-kilometre 24,000-mile fibre-optic network in North America and Europe, and constructing a trans-Atlantic network connecting Boston, Massachusetts, and Halifax, Nova Scotia, with Liverpool, England, and Dublin, Ireland. "We are developing one of the largest and most advanced fibre optic networks in England," said Greg Maffei, Chief Executive Officer of Worldwide Fiber. "This infrastructure will be at the heart of our network that connects our trans-Atlantic cable to Europe via our gateway in London. It represents a critical leg of our growing international network." Worldwide Fiber is a wholly-owned subsidiary of Ledcor Industries Inc., based in Vancouver, British Columbia.
Telewest Communications is a leading broadband cable communications operator, currently providing multi-channel television, telephone and Internet services to about 1,400,000 UK households; and voice and data telecommunications services to about 48,000 business customers. "This is a significant network transaction for Telewest that will enhance our position in the market for carrier network services," said Tony Illsley, Chief Executive Officer of Telewest. "The immediate benefits of increased capacity on our national network are coupled with the opportunity to develop a long-term relationship with a major international operator."
Sources:
Worldwide Fiber media release
https://www.newswire.ca/releases/January2000/20/c1787.html
and the National Post, 29 January 2000
---
Optic Fibre
Some Technical Details
The following is excerpted from a document filed by Worldwide Fiber Inc. on 28 January 2000, with EDGAR — the Electronic Data Gathering, Analysis, and Retrieval system operated by the U.S. Securities and Exchange Commission.
The complete document (HTML, 623 kilobytes) is available at
https://www.sec.gov/Archives/edgar/
data/1084587/0000950162-00-000098-index.html
These excerpts have been chosen mainly to give a snapshot overview of the current state of development of optic fibre communications technology by looking at one of the prominent players. References to "we," "our" and "us" refer to Worldwide Fiber Inc. Worldwide Fiber was incorporated on 5 February 1998 and is indirectly a subsidiary of Ledcor Industries Limited, which is a subsidiary of Ledcor Inc. We began our operations on 31 May 1998 after some assets of the telecommunications division of Ledcor Industries were transferred to us.
By March 2001, Worldwide Fiber plans for its network to consist of approximately 60,800 route kilometres comprised of:
38,800 route kilometres in North America (of which more than 19,000 route kilometres have been developed to date);
approximately 9,800 route kilometres in Europe as a result of swaps and co-development agreements; and
the 12,200 route kilometre Hibernia transatlantic cable, a 1.92 terabits per second, self-healing ring that will connect landing sites in Boston, Halifax, Dublin and Liverpool.
In June 1999, we entered into a turnkey supply agreement with Tyco Submarine Systems Ltd. whereby Tyco will serve as the primary contractor for Hibernia, taking responsibility for the design, construction, installation and testing of the cable. Hibernia's self-healing ring design will have a capacity of 1.92 terabits per second on each segment using 4 fibre pair with state-of-the-art, 48-wavelength technology on each fibre pair.
We believe that there is growing demand for fibre optic capacity to transmit high-bandwidth data, voice and video. This growing demand is being accelerated by improvements in "last mile" technology such as digital subscriber line, fixed and third generation wireless access and cable modems. To meet our customers' demands, we offer a wide range of services on a scalable basis, across an extensive geographic network. Our services include:
bandwidth services — optical channels, private line transmission, packet-based data services such as Internet Protocol transport and Asynchronous Transfer Mode, and virtual voice trunking; and
network infrastructure — dark fibre and conduit for sale, grant of indefeasible right to use, or lease and construction services supporting the development of our network.
The provision of dark fibre can be viewed as a non-communications service in that it is not a service, but rather the provision of a physical facility that is indistinguishable from other non-communications offerings such as the construction of an office building. Many providers of dark fibre are currently operating on the assumption that they are providing unregulated facilities. Nevertheless, the Federal Communications Commission had previously ruled that when an incumbent local exchange carrier provided dark fibre it was providing a common carrier service. A federal appeals court reversed and remanded this decision to the agency for further proceedings. The Federal Communications Commission's action in response to this remand could affect our position that dark fibre is not a communications service.
A typical contract for sale of channel capacity currently provides for a sale price of $1,000 to $2,000 per fibre kilometre, depending on geography and number of strands bundled together in the sale.
Dense Wave Division Multiplexing (DWDM)
DWDM technology in our network allows us to sell a customer exclusive long-term use of a portion of the transmission capacity of a fibre optic strand rather than the entire strand. We expect to be able to derive up to 160 individual wavelength channels at either OC-48 or OC-192 per fibre pair. A purchaser of a wavelength may install its own switching and routing equipment and has the choice of installing its own protection equipment or use optical protection supplied as part of our service.
Network Design and Infrastructure
Our network utilizes state-of-the-art technologies based on DWDM optics and packet-switched routing. This approach greatly reduces the complexity and number of component systems that previously were required to deliver voice and data services. Our network has the following characteristics:
Advanced Fibre Optic Cable.
Our network benefits from technologically advanced fibre optic cable, including Corning E-leaf and single mode fibre that allows us to expand our DWDM system to maximize the potential of DWDM technologies.
Dense Wave Division Multiplexing.
DWDM allows for increased network capacity through the transmission of multiple waves of light over a single fibre optic strand. Our DWDM optical system electronics are installed in shelters and POPs in carrier interconnect locations along the route. Each route includes several spans that are comprised of optical terminals at the ends of the span and a combination of optical line amplifiers, electrical signal regeneration and optical add/drop terminals to complete the path. Each system operates on a single fibre providing bi-directional transport of up to 160 channels of OC-192 (10 gigabits per second) wavelengths. The current network plan calls for a minimum of four OC-48 channels per route, with four OC-192 channels installed in routes where we believe that there will be sufficient market demand.
Optical Technology.
Our network's optical design will enable us to upgrade installed equipment or to add new equipment to any segment of the network. Our initial optical platform will have a capacity of 32 wavelengths at 2.5 gigabits per second (Gb/s) or 10 Gb/s expandable to 160 wavelengths. We will use optical ring protection devices where a customer requires redundant services.
ATM Core Switching and Protection.
In place of the SONET equipment used by older network architectures, we have chosen to use ATM as both the protection and the switching layers to deliver services in addition to optical channels derived on the DWDM equipment. ATM core switching is a packet-based switching and transmission technology which sends various types of information, including voice, data and video, in fixed-size cells. We utilize advanced equipment by Marconi which enables packet-based networks to carry voice and data more efficiently and at a lower cost than traditional voice and data networks. The initial core switches have a throughput capacity of 40 Gb/s and network link speed of 2.5 Gb/s.
The ATM packet elements use multiple optical channels connecting directly to the DWDM equipment providing meshed topology, a method of circuit protection that is more reliable than a simple ring topology. The use of the PNNI hierarchical routing protocol collects circuits into virtual paths and greatly reduces the number of channels that the ATM switch is required to restore in the event of an optical failure. This approach allows for the scalability and the restoration timeframes that are as good as, or better than, those of a traditional SONET-based architecture. Due to the nature of the ATM configuration, all of the circuits are fully protected and there are no single points of failure other than the customer connection port. This enables us to offer traditional as well as dedicated IP services with guaranteed availability in excess of 99.9% compared to the market standard of 99.7%.
Network Operations Center
Our Network Operations Center (NOC) is the human service connection between our customers and the technology that ultimately delivers their services. We have an NOC in Vancouver, which provides services 24 × 7. We will have redundant network services through Nortel until 30 June 2000.
We are in the process of designing our NOC in Dublin, Ireland. Our Dublin NOC will be primarily responsible for European operations and will be on line in October 2000. Each NOC will serve as a back up to the other.
In addition to the two main NOCs in Vancouver and Dublin, we are also designing support centers in Denver to maintain North American cable operations and in Halifax to maintain the Hibernia cable. The NOCs allow us to provide the following services:
directing the repair efforts of cable restoration, optical and ATM system repairs and maintenance;
providing network management for the optical and ATM elements;
providing POP and customer record management; and
providing circuitry for customer and internal circuits.
We are using a design based on IP technology that integrates all of the alarm and monitoring of the network elements into an adaptive fabric to satisfy our service level agreements. With this technology, access to the network management layer is not restricted to the physical NOC as full operations capabilities may be located at multiple locations. This allows us to extend particular management services to our customers in a secure and reliable way.
Network Construction
We design the portions of our network that we are constructing to maximize expandability and flexibility. We plan to continue to install an average of 144 fibre optic strands on major builds throughout the network. In high demand areas, we may install 264 fibres or more in order to meet anticipated demand as well as to enable us to swap fibre for fibre in other geographic areas both in the North American market and internationally.
Our network installation process along railroad rights of way (ROW) combines traditional railroad activities and modern engineering and building techniques. We generally install conduit and fibre on railroad ROW with our patented railplow. The railplow reduces the time necessary to install network infrastructure on railroad ROW because it allows us to move on and off the tracks on short notice to allow trains to pass. As a result,we can construct networks on railroad ROW much more quickly and efficiently than our competitors who use traditional plow trains, which are not able to move on and off railroad tracks on short notice. Ledcor and Worldwide Fiber currently own 50% each of the common shares of a holding company that owns the patent to the railplow…
For routes not using railroad ROW, we use tractor plows. Tractor plows are tractor-pulled plow vehicles equipped to plow trenches and install conduit. Tractor plows also may be used in some places along railroad ROW, depending on space, availability of track time and other factors. These tractor plows generally perform the same functions as railplows. Many of the skills developed in connection with the installation of fibre optic cable along railways are transferable to non-rail installations.
If fibre or conduit must be laid across a bridge or through a tunnel, we typically place the conduit in a galvanized steel pipe that is attached to the side of the bridge or along the tunnel floor or wall. When necessary to install fibre or conduit under rivers or other obstructions, we use directional boring techniques to bore small tunnels underneath the river or obstruction and feed the conduit through the tunnel.
After the conduit has been buried (or attached to a bridge or tunnel) and as a segment nears completion, the fibre optic cable is installed or "jetted" through the conduit. We accomplish this through the use of access boxes that are installed along the network at intervals of about six to eight kilometres. The access boxes also allow us to make repairs, replace fibre and install additional fibre. The access boxes typically contain an additional loop of fibre optic cable to provide slack in the system to accommodate displacement, disruption or movement of the conduit as a result of digging or excavation activities, floods, earthquakes or other events. The presence of additional fibre optic cable reduces the risk that the cable will be cut or broken.
Regeneration Shelters
We design and manufacture regeneration shelters that are installed along our network at intervals averaging about 70 kilometres. These shelters are secure, climate-controlled structures with an individual compartment for each participant to install its optical transmission equipment and related electronics.
The optical system electronics are installed in the shelter compartments. Each route includes several spans that use Optical Terminals at each end of the span and Optical Line Amplifiers, regeneration shelters and Optical Add/Drop between Optical Terminals. Each linear route includes a redundant system for reliability and maintenance. In the case of diverse parallel routes, one of the parallel routes will include a redundant system for additional reliability and system maintenance.
Rights of Way (ROW)
To implement our plans, we must obtain licenses and permits from third-party landowners and governmental authorities… to permit us to install conduit and fibre… It is also possible to obtain ROW in bulk. The majority of the ROW for the fibre optic transmission system was obtained from two Canadian railways. In June 1999, we announced agreements with Canadian National Railway Company (CN) and Illinois Central Railroad Company (IC) which provide access to over 1,530 track kilometres in the United States and 4,600 track kilometres in Canada which we believe will substantially satisfy the ROW and permit requirements for the Central and Northeast Builds. We believe that these ROW will be valuable to us, particularly with the advantages of the railplow and the ROW's geographic location. The ROW obtained from each of CN and IC may be subject to legal challenge. Landholders who granted rights-of-way to some railroad companies in the past have filed class action lawsuits against communications carriers that received ROW from railroad companies in order to develop their fibre optic networks. These challenges have not been finally decided by the courts.
Submarine Cable
The route addressed by Hibernia is currently served by several undersea cables. We anticipate that we will face competition primarily from new transatlantic cable systems, including:
AC-2, a transatlantic cable system which is being developed by Global Crossing;
FLAG Atlantic, a 50/50 joint venture between Global Telesystems Inc. and Flag Telecom;
Level 3's linear Yellow cable project; and
Tyco's proposed transatlantic cable project.
Three of these systems, including Hibernia, will have fully protected ring designs. Hibernia will be the first of the new systems to be ready for commercial service, and will be competing for clients directly with the other two new ring systems.
Source: EDGAR, the Electronic Data Gathering, Analysis, and Retrieval system
https://www.sec.gov/edgarhp.htm
Search done 24 February 2000 in EDGAR:
Query: worldwide ADJ fiber 5 matches
Worldwide Fibre Inc.'s directors are:
David Lede; Chairman
Gregory Maffei; CEO
Clifford Lede; Vice Chairman
Larry Olsen; Vice Chairman and CFO
Ron Stevenson; President
Stephen Stow; Executive Vice President and Director
Jim Voelker
Glenn Creamer
Robert Gheewalla
Andrew Rush
Claude Mongeau
William Ramsey
(Biographies of each director are included in
the EDGAR document dated 28 January 2000.)
Source: EDGAR
https://www.sec.gov/edgarhp.htm
---
2000 January 19
No Mention of Y2K
On this day, for the first time in a long time, the term "Y2K" did not appear anywhere in The Globe and Mail newspaper. It happened again on January 24th.
[The Globe and Mail, 28 January 2000]
---
2000 January 20
Smoke-Free Information Goes on the Internet
The Lung Association of Nova Scotia has taken national Non-Smoking Week to the Internet with an on-line list of smoke-free across the province. The idea for "No Puffin' Places" https://www.ns.lung.ca/nopuffin/index.html originated eight years ago when local Tim Horton's coffee shops first began asking customers to butt out. The lung association decided to lend its support to the cause and began circulating the No Puffin' pamphlet, listing other establishments that respected the right to clean air. Nancy Irvine, spokesperson for the Lung Association of Nova Scotia, admitted the first pamphlet only scraped the top of a growing list of smoke-free businesses in the province. Bringing tourism officials in on the idea was the turning point, she said. "In 1992 when we first started we only had a few places — a half-dozen, dozen at the most — and it was mostly just in the Halifax metro area. Then we got involved with the tourism industry and they helped us by going around in their communities, like Mahone Bay, and getting more and more names. Since then it has just grown and grown and grown. Now every time we do it we add about 400 names or so." Now the list includes more than 1,100 entries province-wide, 221 of which are located in Cape Breton. Irvine said the association's recent decision to post the growing list on the World Wide Web will allow them to update new entries immediately. While the hard copy form of No Puffin' Places was very popular, with all 10,000 copies distributed just six months after it was first published in 1994, Irvine is confident the Web site will be just as successful.
[Cape Breton Post, 20 January 2000]
References:
The Lung Association of Nova Scotia website at
https://www.ns.lung.ca/
No Puffin' Places in Nova Scotia
https://www.ns.lung.ca/nopuffin/index.html
---
2000 January 20
Barrington Plans Walking Trail
Along Abandoned CN Railway
For the most part, the development of a walking trail along the abandoned CNR (Canadian National Railway) from Fresh Brook in Doctor's Cove to where it crosses Highway 3 in Barrington Passage, across from the Old School House, was supported at a public meeting this evening. However, the Municipality of Barrington's Waterfront Development Committee did hear a number of concerns they will have consider before proceeding with the project. The committee is planning on developing the 3.2 kilometre section of abandoned railway as a walking trail, with benches along the way and signage depicting some of the local history of the area. It was suggested at the meeting that garbage cans and perhaps bicycle racks should also be installed. The plan is to place barriers to prevent ATVs (all-terrain vehicles) from accessing the trail. But as Doctor's Cove resident George Newell told the committee, the section of railway line from Fresh Brook to the causeway is now heavily used by ATVs — some even use that route to go get coffee at Tim Horton's, parking a short distance from where the railway line crosses the main highway. Newell, who owns property on both sides of the CNR line, said while he is in favour of developing the trail west of the causeway as a walking trail, he doesn't support any changes east of the causeway to Doctor's Cove. Other members of the public in attendance supported the development of the entire section of the railway line, pointing out they have no objection to the trail being designated as multi-use, nor of ATVs using it, adding it is also used by bikers. It was emphasized that the natural Flora and fauna should be kept intact as much as possible, with the trail cleared only as much as necessary. Debbie Smith, regional representative with the Nova Scotia Sport and Recreation Commission, said eventually the abandoned railway line from Halifax down the South Shore to Yarmouth will be developed as Phase Two of the TransCanada Trail.
[Shelburne Coast Guard, 25 January 2000]
---
2000 January 20
CRTC's Quality of Service Indicators
for Telephone Companies in Canada
Final standards for quality of service indicators
for use in telephone company regulation…

CRTC Decision 2000-24
20 January 2000
The Commission has concluded it will not relax the existing quality of service standards that Canadian telephone companies are required to meet.
Although some telephone companies have asked to have certain quality standards made less stringent, they will be required to maintain the same standards the Commission adopted on an interim basis in July 1997. Telephone companies have been responsible for maintaining specific service standards since 1982.
Among the 16 indicators that telephone companies must monitor and report, some new indicators have been created. For example, the Commission is seeking comment on how telephone companies should report the amount of time it takes to field customer requests and inquiries. The telephone companies should indicate if they prefer either a service indicator based on the total length of time it takes to handle a customer inquiry, how long a customer was placed on hold, or a combination of the two.
There is also a new provision to report the percentage of customer complaints which have not been satisfied within ten working days. Telephone companies should also provide comment on what standards should be used to monitor the speed and accuracy of directory assistance.
The indicators will not override any time frames negotiated by the CRTC Interconnection Steering Committee (CISC). Those service intervals and standards have already been approved by the Commission for transferring customers' local service from the telephone companies to their competitors.
The alternative service providers that compete with the telephone companies are also customers when they use portions of the existing network. The Commission wants to monitor the quality of service the telephone companies provide to their competitors who are also customers. Within ninety days of this decision, the telephone companies are required to propose how this can best be accomplished…
The telephone companies required to report their Quality of Service Indicators are:
Bell Canada
Island Telecom Inc. (formerly The Island Telephone Company Limited)
Maritime Telegraph & Telephone Limited
MTS Communications Inc. (Manitoba)
NBTel Inc. (formerly The New Brunswick Telephone Company Limited)
NewTel Communications Inc. (Newfoundland)
Northern Telephone Limited
Northwestel Inc.
Quebec-Telephone
Telebec ltee
TELUS Communications (B.C.) Inc. (formerly BC TEL)
TELUS Communications Inc.
The Corporation of the City of Thunder Bay — Telephone Division
These companies are required to file quarterly (45 days after the end of each quarter), Quality of Service monthly performance reports.
The Commission relies upon these reports to ensure that subscribers receive acceptable service from their respective carriers, to isolate service quality problems as they arise and to work with the telephone companies to implement corrective actions where needed.
Source: CRTC website
https://www.crtc.gc.ca/
The above is an excerpt only. For the complete text,
see CRTC Decision 2000-24
https://www.crtc.gc.ca/archive/Decisions/2000/DT2000-24.htm
---
2000 January 20
U.S. Companies Take Canadian Internet Site to Court
Calling it one of the "largest and most brazen thefts of intellectual property" ever, some U.S. film and television companies have launched legal action against a Canadian Internet firm, iCraveTV. The website, run by TVRadioNow Corporation, offers people free access to several broadcasters' signals, including the CBC. TVRadioNow Corporation was incorporated in Nova Scotia as an unlimited liability company on 29 September 1999. The company's registered office is at 1959 Upper Water Street in Halifax. The company picks up television signals with a regular off-air antenna and then puts the signals on its website. The 24-hour service makes money from advertising, not from subscriber fees. Jack Valenti, president of the Motion Picture Association of America, in a statement released Thursday, January 20th, accused the Canadian Internet service of "one of the largest and most brazen thefts of intellectual property ever committed in the United States. This is a clear and damaging case of theft by iCraveTV that threatens the intellectual property, investments and achievements of the U.S. television and motion picture industry. This kind of cyberspace stealing must be stopped, wherever it occurs, because it violates the principles of U.S. copyright law."
On Thursday, January 20th, ten film and three broadcast organizations filed a complaint in a U.S. district court in Pennsylvania, accusing iCraveTV of copyright infringement, trademark infringement and unfair competition. They want a judge to stop the company from broadcasting any more of their programs on the Internet.
The 13 complainants named in Thursday's suit are:

ABC Inc.
CBS Broadcasting Inc.
Fox Broadcasting Co.
Twentieth Century Fox Film Corp.
Disney Enterprises, Inc.
Columbia TriStar Television, Inc.
Columbia Pictures Television Inc.
Columbia Pictures Industries, Inc.
Metro-Goldwyn-Mayer Studios Inc.
Orion Pictures Corp.
Paramount Pictures Corp.
Universal City Studios, Inc.
Time Warner Entertainment Co. L.P. (Warner Bros.).
The CRTC announced last year it has no intention of regulating the Internet, a decision which some industry analysts say may have opened the door for iCraveTV. So far, iCraveTV's president Bill Craig hasn't responded to news of the lawsuit but he probably wasn't surprised. He was expecting the company would be sued. In the past, Craig has argued that he's doing nothing wrong. "This is allowed in this country," Craig said last month. "You're allowed to make money in an entrepreneurial way and we have found a way to bring TV programming to people without charging them a monthly fee."
Source:
https://cbc.ca/cgi-bin/templates/view.cgi?/news/2000/01/20/icrave000120
Recommended:
We Crave TV

If Hollywood Kills iCraveTV,
Consumers and Content Providers All Lose

by Robert Labossiere

https://www.straightgoods.com/
Also:
The Electronic Rights Licensing Agency (TERLA)
https://www.terla.com/
CANCOPY and TERLA Work Together To Protect Copyright Owners
https://www.cancopy.com/whatsnew/terla.html
Canadian Science Writers' Association, Update on TERLA
https://www.interlog.com/%7ecswa/slink/may98/terla.html
Jack Valenti press releases:
https://www.mpaa.org/jack/
---
Canadian Broadcasters to Join Attack on iCraveTV
Canada's broadcasters and producers say they will join a United States entertainment industry assault on iCraveTV.com within ten days because they want to "pull the plug" on the upstart website forever. The promise to pursue legal action against iCraveTV came just hours after some of the biggest names in the United States sports and entertainment industry — including Time Warner Entertainment Co. and the National Football League — filed suit in the United States against the Canadian company founded by Toronto native William Craig. The Canadian action is expected to hit the courts within a week to ten days.
In late November 1998, Mr. Craig launched his website, which pulls in television signals and broadcasts them on the Internet without permission from the networks and producers. It is the first Web site in the world to broadcast TV signals without preauthorization and producers and broadcasters argue Mr. Craig's company violates both copyright and trademark laws. "Our laws in Canada may be different, but the essentials are the same as in the United States. They are stealing our product and they are misusing our trademark," said Michael McCabe, president of the Canadian Association of Broadcasters. "The end game is to pull the plug on iCraveTV. We want them off the air."
The legal battle brewing on both sides of the border will be one of the most followed actions in broadcast history, as all sides try to establish their position on the Internet. Broadcasters and producers argue that they control the information iCraveTV is sending over the Internet and that such actions are illegal. They have nicknamed his site iStealTV. Mr. Craig, however, says he is a legal distributor of TV signals. He considers himself as a sort of Rogers Cable of the Internet. Mr. Craig had little to say yesterday about the suits filed against him. "We understand that a U.S. complaint has been filed today. We have not yet had a chance to review it, but upon review we will have further comments," he said in a statement.
"iCraveTV believes it is acting in compliance with all applicable laws and will defend itself actively and vigorously." There has been a lot of industry speculation that Canadian producers and broadcasters had not moved against iCraveTV because this country's regulations are more relaxed than those in the United States.
Yahoo vice-president prefers the Canadian law
In a recent speech at the Streaming Media West conference, Yahoo Inc. vice-president Mark Cuban called U.S. digital copyright law the number one enemy of on-line providers and said Canada has friendlier laws. "Move your servers to Canada," Mr. Cuban declared. The conference, held December 7-9, 1999, in San Jose, California, was billed as "the world's largest Internet audio and video event" Both the Canadian broadcasters and the producers' associations played down Cuban's comments yesterday. "We are all coming out of the same ballpark. The U.S. case is great for us, we support and applaud it and we are preparing a Canadian response that will take up much of the same ground," said Peter S. Grant, a communications lawyer specializing in broadcasting, entertainment, high tech, and telecommunications, and senior partner at the Toronto law firm of McCarthy Tetrault, and also counsel to the Canadian Film and Television Production Association. Industry insiders said Mr. Craig is basing his legal argument on section 31 of the Canadian Copyright Act. The company, insiders said, sees itself as a retransmitter. [The Globe and Mail, 21 January 2000]
References:
iCraveTV.com website at
https://www.iCraveTV.com/
Streaming Media West 99 website at
https://www.streamingmedia.net/streamingmedia/west/contact.html
European Internet television
https://www.streamingmedia.com/news.asp?news=4575&format=qAnda
Canadian Association of Broadcasters (CAB) website at
https://www.cab-acr.ca/welcome.htm
Canadian Film and Television Production Association (CFTPA) website at
https://www.cftpa.ca/
McCarthy Tetrault website at
https://www.mccarthy.ca/
---
2000 January 24
BCE Gets Majority Ownership of Aliant
Many shareholders in Aliant Inc., Atlantic Canada's brand-new telecommunication company, have decided to sell their shares to industry giant BCE Inc. of Montreal. BCE, which already owns 41 per cent of Aliant Inc., announced yesterday shareholders have tendered almost double the number of shares BCE needed to gain control of Aliant. Jean-Charles Robillard, a spokesperson for BCE, said BCE needs majority ownership to include Aliant's financial numbers in its own annual report. "Aliant is a company that is growing pretty fast… a reason for increasing the ownership is to be able to report the revenues — and growing revenues — into the BCE results," he said from Montreal.
BCE Inc. today announced that an estimated 31,200,000 common shares have been tendered by shareholders of Aliant Inc. under BCE's offer to purchase up to 15,800,000 of the outstanding common shares of Aliant at a price of $27.50 per share made 21 December 1999, which expired on 21 January 2000 at 5:00pm. Approximately 50.6% of the shares tendered by each shareholder will be taken up under the offer. Once the precise number of shares validly tendered under the offer has been established, BCE will announce the final prorata factor and will buy that proportion of the shares offered by each shareholder. Official acceptance of shares tendered is expected to occur on 27 January 2000, with payment occurring no later than 31 January 2000. The total cost will be about C$434,500,000. The shares to be acquired by BCE, together with the shares now owned by Bell Canada, will be about 53% of the outstanding common shares of Aliant.
Aliant was formed in mid-1999 by the merger of the provincial telephone companies in New Brunswick, Nova Scotia, P.E.I. and Newfoundland in a bid to improve the chance of survival in the rapidly consolidating industry. BCE's plan will give it a seamless telecommunications presence from the Atlantic to the Ontario-Manitoba border.
Sources:
Halifax Daily News, 25 January 2000
Halifax Chronicle-Herald, 25 January 2000
and the BCE media release
https://www.newswire.ca/releases/January2000/24/c2276.html
---
2000 January 25
Atomic Energy Board Files Charges Against Devco
The Cape Breton Development Corporation (Devco) will appear in Glace Bay provincial court March 6th to face charges under the Atomic Energy Control Act. The Atomic Energy Control Board (AECB) has charged Devco with eleven counts of non-compliance after federal inspectors determined in July 1999 that a faulty radiation device, a fixed gauge, at the Phalen Colliery in Lingan was emitting gamma rays. AECB later discovered that at least ten workers were exposed to excessive levels of radiation while working at the mine. Each count carries penalties that range from fines, jail time or a combination of both. The round, bowling ball-sized device uses a beam of radiation to identify obstructions in the coal chute. A broken latch on the device's protective shutter exposed maintenance workers and electricians to radiation over an extended period of years. Several of the workers handled the radiation source. As the licence holder, Devco is responsible for the device and its function.
The offences are detailed in documents filed with the court. Devco faces eleven counts of non-compliance and is accused of:

not properly training workers
allowing unauthorized persons to dismantle and service the device
disobeying the manufacturer's instructions
failing to inform the Board of any malfunction within 48 hours
not keeping track of who used the device
failing to conduct leak tests
failing to keep records confirming the device worked properly
Each count carries penalties that range from fines to jail time, or a combination of both. Tests conducted by the Board revealed that ten workers received radiation doses over the annual public limit of five millisieverts (mSv). At least one worker was exposed to levels exceeding the 50-mSv limit the Board sets for nuclear power station workers and other atomic radiation professionals. Devco spokeswoman Sandra Richardson said senior company officials weren't aware of formal charges.
[Cape Breton Post, 25 January 2000]
[Halifax Chronicle-Herald, 26 January 2000]
---
2000 January 25
Tupper Fractionation Plant Officially Opened
Sable Offshore Energy Inc. (SOEI) officially opened the Point Tupper natural gas fractionation plant at a ceremony this day at the Strait Area Campus in Port Hawkesbury. The gas plant in Goldboro was opened in a ceremony earlier the same day. SOEI president and general manager John Brannan said the Tupper facility, at full capacity, will process seven thousand barrels 1,200,000 litres of propane, three thousand barrels 500,000 litres of butane, and ten thousand barrels 1,700,000 litres of condensate each day. "That is enough propane to fill 63,000 twenty-pound 9 kg barbecue tanks, enough butane to fill 11,000,000 cigarette lighters, and enough condensate to produce all the gasoline needed for a car to drive around the world 500 times," Brannan said. He said that over the next few months there will be a lot of activity at the plant as it is brought up to full production. Richmond County warden Richie Cotton and Premier John Hamm were present and spoke to the gathering. Representatives from project owners also spoke at the ceremony, including Ken Miller of Mobil Oil, the majority owner, Rob Symonds of Frontier Exploration for Shell Canada, and Roy Millar of Imperial Oil.
[Inverness Oran, 2 February 2000]
[Guysborough County Journal, 3 February 2000]
---
2000 January 26
Bridgewater Adopts Late Payment Penalty
for Parking Meter Violations
Bridgewater Town Council has decided to double the fee for parking meter violations that are not paid in time. Parking meter fines in the town have been set at $5 since 1995 but there was no penalty for late payment. But under regulations approved January 24th, a $10 fee will be charged if these fines are not paid within seven days. The late payment charges were imposed as a means of reducing the number of letters that have to be written to collect the original fines. "It requires a lot of letters and I mean a lot of letters," said town engineer Harland Wyand.
[Bridgewater Bulletin, 26 January 2000]
---
2000 January 26
Queens Trying to Save Lighthouses
The Region of Queens has decided to ask the federal government to save lighthouses. At the annual conference of the Federation of Canadian Municipalities scheduled for June 2000, Queens Region will present a resolution asking government to continue to support and maintain lighthouses as important infrastructure and historic sites. "We have a lot of lighthouses in Queens. They are being abandoned, sometimes without any thought of what will happen to them," said Mayor Christopher Clarke. "There is a movement on the west coast, to get the federal government to maintain these lighthouses." The resolution states that lighthouses are inherent to the roots of Nova Scotia's seafaring history and promotion of lighthouses contributes greatly to growth in the tourism industry. The Region of Queens includes the former Town of Liverpool and the Municipality of Queens County, in Nova Scotia.
[Liverpool Advance, 26 January 2000]
References:
Queens County website at
https://www.tourism.queens.ns.ca/
Lunenburg-Queens Regional Development Agency website at
https://www.lqrda.ns.ca/
Coffin Island Lighthouse Heritage Society
https://www.chebucto.ns.ca/~jacktar/savecoff.html
---
2000 January 26
The Awful Truth
Salter Street Teams Up with Satirist Michael Moore
Combines guerrilla theater, muckraking journalism and political satire
to expose conceit, greed, and stupidity in corporate America

Salter Street appreciates the creative process in political satire
like no other independent producer, says Moore
The Awful Truth, described as Michael Moore's "weapon of humour to expose conceit, greed, and stupidity in corporate America," will now be produced by Nova Scotia's Salter Street Films for Bravo, The Film and Arts Network, and Britain's Channel 4. The Awful Truth, seen in Canada on Bravo, is entering its second season with twelve half-hour episodes currently in production in New York. Michigan native Moore acts as both a scathing social commentator and corporate pain in the ass through monologues and stunts.
Moore confronts authority with a camera crew in tow. In the opening episode, broadcast on Bravo on 11 April 1999, Moore took up the cause of Chris Donahue, a Florida man with complications from diabetes whose HMO, Humana, denied coverage for the pancreas transplant he needed to stay alive. Donahue, 34, battled Humana for more than two years to get his transplant, without success. After Donahue filed suit in Broward County Circuit Court in October 1998, Moore's producers read a newspaper article about Donahue's plight. In mid-December, they took Donahue to Humana headquarters in Louisville, Kentucky, and taped him inviting company officials to his own funeral. He even sought advice from them on what casket to choose. "The footage of Moore and Donahue in front of Humana headquarters, and running up against the brick wall of corporate indifference in the form of an unyielding public relations flack, deftly brought together guerrilla theater, muckraking journalism and political satire." Back home, the crew shot Donahue arranging to have his obituary placed in The Palm Beach Post. Six days later, producers say, Humana changed its mind and offered to pay for Donahue's transplant.
Moore also got a group to stage a witch hunt at the Kenneth Starr inquiry, saying they were Salem Puritans conducting an investigation into the prosecutors of William Jefferson Clinton. For just $560, according to Moore, he hired a troupe of actors to dress as Puritans and join him on a "real witch hunt" for "adulterers, fornicators and sinners" in Washington. As a scary-looking Puritan preacher read from "the book of Starr," young women in white bonnets and black frocks followed Moore through the corridors of the Capitol, pointing their fingers and crying "Sinner!" at the backs of retreating congressmen, falling down in swoons at the mere sight of Newt Gingrich's office door. There were some satisfying moments here, like the long silence that ensued when Moore, in a casual guy-to-guy tone, asked Republican Bob Barr, one of President Clinton's harshest critics on the House Judiciary Committee, about "the whipped cream incident in 1992, where you licked whipped cream off the breasts of a young woman."
Salter Street announced its involvement with the program today at the annual National Association of Television Program Executives conference in New Orleans. "There is something about Canadians, comedy, and politics which works. Salter Street, as Canada's leading producer of comedy, appreciates the creative process in political satire like no other independent producer," Mr. Moore said. Salter Street has produced one of Canada's top-rated comedy shows, This Hour Has 22 Minutes, for seven years for the CBC. "This collaboration with Michael Moore allows us to work with one of the most talented political satirists in the United States, and to extend our brand globally," said Catherine Tait, Salter Street's president. Mr. Moore is well-known for his 1989 film Roger and Me, in which he pursues Roger Smith, chairman of General Motors, with his video camera to explain layoffs at GM's factory in his home town of Flint, Michigan. In 1995, he served as the host, writer, director, and executive producer of Emmy Award winning series TV Nation and was a driving force behind the 1995 film Canadian Bacon, starring Alan Alda and John Candy. Bravo is a cable television channel currently reaching into more than 50,000,000 homes in North America, offering critically-acclaimed international films. Channel 4 airs news, art film, and comedies.
Sources:
National Post, 27 January 2000
Halifax Daily News, 27 January 2000
Palm Beach Post, 6 February 1999
https://www.theawfultruth.com/palmbeach.html
Salon.com, 19 April 1999
https://www.theawfultruth.com/press/presssalon419.html
References:
Michael Moore's website at https://www.michaelmoore.com/
The Awful Truth website at https://www.theawfultruth.com/press.html
Dog Eat Dog Films website at https://www.dogeatdogfilms.com/
Salter Street Films website at https://www.salter.com/
Bravo's website at https://www.bravotv.com/
---
2000 January 26
Chester Versus Worldwide Fiber Inc.
Chester Municipal Council has decided to provide approximately $300 to the Federation of Canadian Municipalities (FCM) to help fight a serious legal battle against a telecommunications provider, Ledcor, and Worldwide Fiber Inc., a subsidiary of Ledcor, that installed fibre optic cable on Vancouver property without the approval of, or compensation to, the city. The company said the city's regulations are too demanding. Many telecommunications providers are assisting the company's efforts during the Canadian Radiotelevision and Telecommunications Commission hearing. Vancouver and FCM plan to argue that telecommunications companies must abide by municipal requirements and compensate municipal governments for using public land. Councillors agreed to support the effort because similar issues may arise in the Municipality of Chester in the future and because a precedent, one way or the other, will be set. Chester Municipality is located in the eastern half of Lunenburg County, Nova Scotia.
[Lunenburg Progress-Enterprise, 26 January 2000]
---
Serious dispute about the terms and conditions
of access by telecom companies to municipal property
Do they have to pay to dig up streets and sidewalks?
The following is excerpted from a document filed by Worldwide Fiber Inc. on 28 January 2000, with EDGAR — the Electronic Data Gathering, Analysis, and Retrieval system operated by the U.S. Securities and Exchange Commission.
The complete document (HTML, 623 kilobytes)
https://www.sec.gov/Archives/edgar/
data/1084587/0000950162-00-000098-index.html
References to "we," "our" and "us" refer to Worldwide Fiber Inc. Worldwide Fiber was incorporated on 5 February 1998 and is indirectly a subsidiary of Ledcor Industries Limited, which is a subsidiary of Ledcor Inc. We began our operations on 31 May 1998 after some assets of the telecommunications division of Ledcor Industries were transferred to us…
We cannot assure you that we will be successful in obtaining additional rights-of-way and other permits required to install underground conduit from parties such as railroads, utilities, highway authorities and governments and transit authorities. After we have obtained rights-of-way, we may not be able to maintain them. Some of our rights-of-way agreements may be short-term or revocable at will. Some rights-of-way may require regulatory filings or may be subject to legal challenge by third parties such as municipal governments, aboriginal citizens or land owners concerning rights-of-way granted for specific purposes. For example, one of our subsidiaries is seeking an order from the Canadian Radio-television and Telecommunications Commission to prescribe the terms and conditions of access to street crossings and other municipal properties in the City of Vancouver…
On March 19, 1999, we filed an application with the Canadian Radio-television and Telecommunications Commission (CRTC) seeking orders under the Telecommunications Act which would permit us to continue to have access to street crossings and other municipal properties in the City of Vancouver for the purpose of constructing, testing and operating our network facilities within that city.
In an answer to our application, the City of Vancouver took the position that we were not eligible to apply to the CRTC for relief under the Telecommunications Act. On the same day, the City filed an application with the CRTC requesting orders which would permit some of the carriers that have obtained indefeasible rights of use from us to continue to construct, operate and maintain those facilities on a zero rate, interim basis until the CRTC has made a determination on the appropriate terms, conditions and compensation that should be payable to the City for the use of municipal property. In a ruling issued on October 27, 1999, the CRTC granted the City's request for an interim order directing each of the carriers that obtained indefeasible rights of use from us to pay the City $1.00 for the right to access the City's municipal property during the period of time before the CRTC makes a determination for the appropriate terms, conditions and compensation that should be payable to the City for the use of municipal property.
On December 3, 1999, the CRTC issued a public notice which invited interested parties to comment on what the terms and conditions of access by Canadian carriers to municipal property in Vancouver should be for the purposes of constructing, maintaining and operating transmission lines. We anticipate that the CRTC will render a decision on our March 19, 1999 application against the City at the same time that it renders a decision on the matters raised by its public notice proceeding. Failure to obtain the orders we have requested in our initial application to the CRTC could have a material adverse effect on our business, financial condition and results of operations…
Source: EDGAR, the Electronic Data Gathering, Analysis, and Retrieval system
https://www.sec.gov/edgarhp.htm
[Hint: Go to https://www.sec.gov/edgarhp.htm and search on worldwide ADJ fiber ]
---
Pitched Battle Over
Municipal Rights-of-Way
Fibre-Optic Gold Rush
Fight over rights-of-way access could delay network construction

Serious legal disputes in Toronto and Vancouver

Federation of Canadian Municipalities makes the Vancouver dispute a test case

25 January 2000
A fight over access to municipal rights-of-way is threatening to delay the construction of a new fibre-optic network by BCT.Telus Communications Inc. in Toronto. At issue is an attempt by Canada's largest city to collect a fee from Canada's second-largest phone company for use of rights-of-way under and over Toronto's streets.
"There's a fibre-optic gold rush going on right now and it's important that we have a thoughtful strategy and a mechanism that fairly values access to our rights-of-way," said Toronto councillor John Adams, who also chairs the city's telecommunications committee. BCT.Telus plans to ring Toronto with a 118-kilometre-long network of 300 fibre-optic lines as part of its national expansion. The company has contracted with Metromedia Fiber Network Inc. of New York to begin laying the Toronto lines in April, said Doug Strachan, spokesman at BCT.Telus. BCT.Telus Communications Inc., based in Burnaby, British Columbia, is surpassed only by Bell Telephone.
Toronto proposed to charge BCT.Telus either a distance-based fee for each street crossing (about $20 a metre) or a flat rate of 2% of revenue that the company collects each year in Toronto. But BCT.Telus rejected both schemes as unacceptable and on 23 December 1999 asked the CRTC for a temporary order forcing the city to provide access. "We believe the [federal] Telecommunications Act gives us a legal right to municipal rights-of-way," said Mr. Strachan.
He echoed the company's position in the precedent-setting but unresolved dispute launched between Ledcor Industries Inc. and the city of Vancouver at the CRTC last year. Frustrated by the phone companies' reliance on century-old rules that grant them unfettered access to rights-of-way — and only require them to pay for damage to streets or sidewalks — the Federation of Canadian Municipalities has embraced the Vancouver dispute as a test case.
At the same time, two other telecom newcomers — GT Group Telecom Inc. of Vancouver and Calgary-based MetroNet Communications Corp. (now owned by AT&T Canada Corp.) — have agreed to pay municipalities including Toronto 2% of their local revenue in return for access to rights-of-way. "Such a formula is fair to the city and imposes less of a burden on a company," said Mr. Adams, pointing out that New York annually charges carriers 5% of local revenue. He said the city also takes issue with BCT.Telus's argument that it has a legal right to Toronto's rights-of-way because the company has never received the city's consent as required by the Telecommunications Act.
Phone company lawyers point to 90 years of legal cases to argue that municipalities can't use their rights-of-way to collect fees from telecom carriers. However, those precedents may be irrelevant because they predate the 1993 Telecommunications Act, said Hudson Janisch, a professor of communications law at the University of Toronto. [The Globe and Mail, 25 January 2000]
Reference:
Ledcor Industries website
https://www.ledcor.com/
Ledcor Industries, brief history
https://www.ledcor.com/utilit/utilit_about_ledcor.htm
Worldwide Fiber website
https://www.wwfiber.com/
Worldwide Fiber, brief history
https://www.wwfiber.com/html/history.html
---
2000 January 27
Teachers Learning to Use New Technology
The Strait Regional School Board's elementary teachers are preparing for their move this fall into new public private partnership schools. The Strait Regional School Board was established in 1996, as a result of the amalgamation of four district school boards in Nova Scotia. It operates public schools in Antigonish, Guysborough, Inverness, and Richmond counties. The move into the new schools currently under construction won't only involve the shifting of teachers and students. The new schools will include new technology which teachers will incorporate into their lessons. Currently, 34 mentors from the 11 elementary schools which will move to new buildings this fall are undergoing training at the Board's professional development centre in Mulgrave. During the sessions, they work with School Vista, the software which will be used in the new schools. Following their three day-long training sessions, they will bring what they've learned back to their own schools to help train other teachers. Carol Anne Organ, co-ordinator of technology for the Strait Region's schools, says the board decided to go ahead with mentor training over simply going from school to school to train teachers on the software. She says it's one thing to learn how to use the software, but it's another to learn how to integrate into their lessons. "A lot of the other boards are bringing people in and training teachers on the software," she says. "The software is easy to use. What they needed was classroom management. We thought this might be a better way to do it."
[Cape Breton Post, 27 January 2000]
Reference:
Strait Regional School Board website at
https://www.ednet.ns.ca/educ/boards/sb-strait/
---
Strait Regional School Board and Knowledge House
Announce Technology Support Services Agreement
News release dated 19 January 2000
The Strait Regional School Board and Knowledge House Inc. today signed a Memorandum of Understanding ("MOU") and a Technology Support Services Agreement, formalizing a relationship that has been evolving over the past year. The Strait Regional School Board was established in 1996, as a result of the amalgamation of four district school boards in Nova Scotia. It operates public schools in Antigonish, Guysborough, Inverness, and Richmond counties. The Strait Regional School Board is a Canadian leader in the early application and adoption of distributed learning. Knowledge House is an innovative education and information technology solutions provider.
The MOU outlines a plan to collaborate on the creation, testing and demonstration of new curriculum for distributed learning environments. In particular, the parties will model and demonstrate to the P-12 community, learnware that may have national and international applications for teaching and learning. This work is already underway and Knowledge House, through the Knowledge House Limited Partnership, today paid $200,000 to the Strait Regional School Board for the research initiatives and findings shared to-date. The MOU is expected to provide a host of benefits including, enhanced educational experiences for students who participate in the programs; a boost to the local economy through education and training and; the development of export markets.
"Our relationship with Knowledge House first and foremost enables us to provide an enhanced education for our students. It also opens up exciting opportunities for our school board and the communities we serve," said Marie Campbell, Chair, Strait Regional School Board. "In addition to expanding our current knowledge base and product offerings in this school system, we will have the resources to develop and deliver new, world-class educational products which can meet the needs of other sectors in our community." "The Strait Regional School Board has proven expertise and capability in developing creative ways of enhancing traditional learning models," said Dan Potter, Knowledge House President and CEO. "By pooling our knowledge and resources we will be able to pursue mutually beneficial development initiatives in our respective areas of interest. We are also pleased to provide exclusive support to the Cape Breton and Strait region in its bid to be declared a Smart Community. Innovation in learning and performance support is our business and the Strait is a shining example of what can be achieved in this realm."
The Strait Regional School Board and Knowledge House have also entered into a Technology Support Services Agreement in which Knowledge House will provide the Board with complete technology support services. The nine staff currently employed by the Strait Regional School Board to provide technology support are expected to form the core of a Knowledge House Technical Support Services unit to be located in the Strait Region. The expertise of the Board, one of the early adopters of integrating technology into the classroom, will assist in the expansion of Knowledge House's services across the Province and beyond, as part of the its growing Education Solutions business. In return, Knowledge House will provide the Strait with enhanced technical support services as such services are developed.
Sources:
Knowledge House press release, 19 January 2000
https://www.sedar.com/
Strait Regional School Board press release, 19 January 2000
https://www.strait.ednet.ns.ca/news/knowledge.htm
---
2000 January 28
Finance Minister's Company Profits from Devco Shutdown
CSL ships paid millions of dollars
to bring foreign coal to Cape Breton
A shipping company owned by Canada's finance minister is profiting from Devco's lack of coal production, the Halifax Chronicle-Herald reported today. The Christoffer Oldendorff (formerly named CSL Innovator), owned by Finance Minister Paul Martin, will dock today with 48,000 tonnes of foreign coal for Nova Scotia Power, Sydney harbourmaster Don Rowe said yesterday. The Liberian-registered vessel will dock at Devco's International Pier on the one-year anniversary of Ottawa's announcement that it was getting out of the coal-mining business — a move that will put 1,700 people out of work. The Christoffer Oldendorff, its sister ship Bernhard Oldendorff, and the Nanticoke have made a half-dozen trips to Sydney and Auld's Cove, Guysborough County, with foreign coal since August 1999. The ships belong to Canada Steamship Lines Incorporated, 759 Victoria Square, Montreal, which is wholly owned by Mr. Martin. CSL operates a fleet of 33 ships, including those operated by CSL International. As required by the government's conflict-of-interest guidelines, the company is held in a blind management agreement controlled by a Montreal lawyer. Canada Trust manages Mr. Martin's other holdings. But Sydney-Victoria MP Peter Mancini says bringing in coal in direct competition with Devco is questionable, given Mr. Martin's power and portfolio. "His answer would be, it's in blind trust and he knows nothing about Canada Steamship, but I think it might be appropriate to absent himself from decisions regarding Devco," Mr. Mancini said Thursday. Nova Scotia Power has bought large quantities of coal from the Cape Breton Development Corp. since 1978. Since 1994, the power company has bought as much coal as the Crown-owned mines could produce.
When in full production, Devco supplies Nova Scotia Power with more than 2,000,000 tonnes annually. But over the past two years, the power utility has had to supplement its Devco coal supply with coal from the United States, Colombia and Venezuela. In 1998, 589,000 tonnes of coal was shipped in from other countries. In 1999, Devco's trouble at the Phalen colliery in New Waterford coupled with a lack of developed walls at the Prince mine in Point Aconi, Nova Scotia Power's coal imports almost tripled to 1,600,000 tonnes. In January 1999, the cost of shipping coal from Baltimore — the main loading point for coal in the eastern U.S. — to Auld's Cove on Canso Strait, was C$4.52 per tonne. The cost of shipping coal from Columbia to Auld's Cove at that time was C$5.66 per tonne (C$ means Canadian money). At those rates, the value of the Nova Scotia Power contract for shipping coal would be in the vicinity of C$8,000,000 for 1999 alone. Mr. Mancini said the involvement of Mr. Martin's company is demoralizing to the miners and he plans to raise the issue in the House of Commons. [Halifax Chronicle-Herald, 28 & 29 January 2000]
References:
Canada Steamship Lines Incorporated website at
https://www.csl.ca/
History of Canada Steamship Lines
https://www.csl.ca/history.html
Canada Steamship Lines fleet
https://www.csl.ca/fleet.html
Christoffer Oldendorff
Panamax self-unloader, 37,592 gross registered tons
https://www.csl.ca/fleet-christoffer.html
Bernhard Oldendorff
Panamax self-unloader
https://www.csl.ca/fleet-bernhard.html
Nanticoke
Lakes/ocean self-unloader, 22,716 gross registered tons
https://www.csl.ca/fleet-nanticoke.html
Canadian Shipowners Association website
https://www.shipowners.ca/
Great Lakes & Seaway Shipping website, by Neil Schultheiss
https://www.boatnerd.com/
---
2000 January 30
VIA Passenger Train Wrecked
On this day the Ocean, VIA Rail's Montreal to Halifax Train 14, encountered a mainline track switch turned the wrong way, a short distance east of Miramachi, New Brunswick, on the New Brunswick East Coast Railway (the original ICR mainline track built in the 1870s to connect Halifax with Montreal, later owned and operated by CNR). The train was misdirected into a siding at speed, and collided with two boxcars parked on the siding. The impact of the collision derailed lead locomotive F40PH-2 6450 and the first seven cars of the ten-car train, but all remained upright. Locomotive F40PH-2 6432, coupled immediately behind 6450, did not derail. About 30 of the 113 passengers and 14 crew members were taken to hospital, with eight admitted. Five were considered to have serious injuries, including a VIA dining car employee who suffered serious burns. Passengers for Moncton and Halifax, and intermediate destinations, were taken by bus. The train consist included: F40PH-2s 6450 and 6432, baggage car 8618, coaches 8140 and 8143, Skyline 8511, Diner Wascana, Sleepers Chateau Radission, Chateau Papineau, Chateau Salaberry, and Chateau Levis, and Dome-Observation-Sleeper Banff Park.
Sources:
Branchline, March 2000. Branchline is a monthly newsmagazine published by the Bytown Railway Society, Ottawa, Ontario.
The Halifax Chronicle-Herald, 1 February 2000
---
2000 January 30
Death of J.B. Ferguson
Builder of 24 Park Class Merchant Ships
Pictou mourned the death today of well-known Pictou businessman and shipbuilder James Bell "J.B." Ferguson, at age 89. In 1935 he obtained a Bachelor of Mechanical Engineering degree from McGill University. Following graduation, he returned to Pictou and worked at the family-owned Pictou Foundry and Machine Company. In the early 1940s, this company worked in cooperation with the Foundation Company of Canada in building 24 Park Class Merchant Marine ships, in addition to operating a ship repair division. After the war (World War Two, 1939-1945) ended, he and his brothers, Allan and Thomas, founded Ferguson Industries Limited. The Ferguson shipyard built and repaired numerous commercial, military, and fishing vessels from the late 1940s to the early 1970s.
[Pictou Advocate, 2 February 2000]
We produced 456 Merchant Ships during World War Two (1939-1945). The first of these were sold to the United States who turned them over to the United Kingdom under a lend-lease agreement. These were all named with a "Fort" prefix and mainly a Canadian name for the suffix. FORT AKLAVIK and FORT LOUISBOURG were but two of the many. By 1942 Canada decided to step in and supply a fleet of her own to help in the war effort, maintaining a steady supply of material needed for this war and to feed the population of the United Kingdom. The Park Steamship Company, incorporated in 1942, was a crown owned company. This company supplied ships to the various Canadian shipping companies to operate and all the ships were named after the numerous federal Canadian parks throughout the country. They contained the word "Park" as the suffix of their name. There were a total of 176 ships that came under this company…
—Source: The Park Fleet pages 246-254
The Park Ships Veterans Affairs Canada

The Parks

Pictou Shipyard Pictou, Nova Scotia
---
2000 January 31
Long Distance Telephone Charges Eliminated
Rogers AT&T Wireless offers wireless telephone service
with no long distance charges anywhere in the Atlantic region
With the introduction of Rogers AT&T Wireless, Atlantic Canadians are being offered the best deal around with the new "Regional" One Rate plan – which enables users to place calls to anywhere within the province (and Canada or the U.S.) for one rate and no long distance charges. This plan eliminates traditional time-of-day and distance barriers for Canadians using their wireless phone and enables customers to communicate anytime, anywhere. "We're eliminating long distance charges for our customers across the Atlantic provinces," said Mr. Michael Boudreau, Vice President & General Manager, Atlantic Region, Rogers AT&T Wireless. "With the announcement of our new brand name, Rogers AT&T Wireless, this was the best time to provide our Atlantic customers with a remarkable plan that eliminates long distance charges not only when using their phone within the region, but also anywhere across Canada."
This plan offers one rate calling anywhere within the Atlantic Region, across Canada and also to the United States. Customers can select the plan that is best for them, based on their calling patterns:
$50 per month with 250 minutes included
and additional minutes at 30¢ per minute;
$100 per month with 600 minutes included
and additional minutes at 25¢ per minute;
$200 per month with 1,500 minutes included
and additional minutes at 20¢ per minute.
Rogers Wireless Inc. operates under the co-brand Rogers AT&T Wireless and is Canada's largest wireless provider serving over 2,600,000 customers from coast to coast. Rogers AT&T Wireless is 51% owned by Rogers Communications Inc. and 33.3% owned equally by AT&T Corp. and British Telecommunications PLC.
Source:
Rogers Wireless Inc. media release, 31 January 2000
https://www.newswire.ca/releases/January2000/31/c4286.html
Reference:
Rogers Wireless Inc. website at
https://www.rogers.com